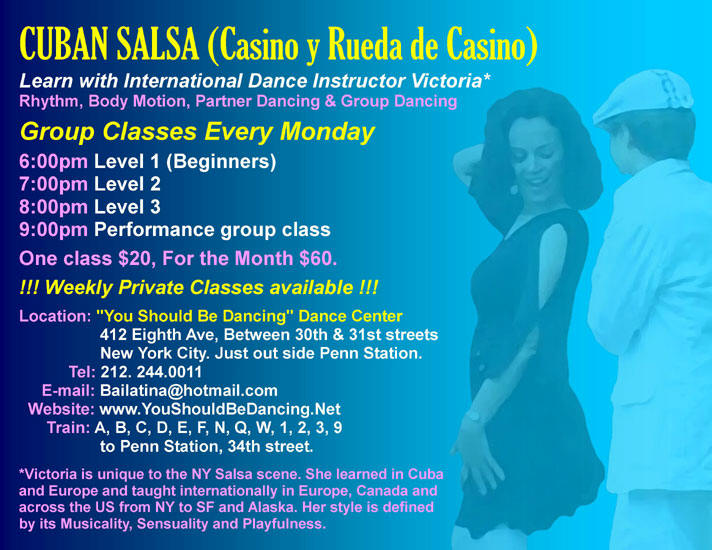 CUBAN SALSA (Casino y Rueda de Casino)
Learn with International Dance Instructor Victoria*
Rhythm, Body Motion, Partner Dancing & Group Dancing

Group Classes Every Monday

6:00pm Level 1 (Beginners)
7:00pm Level 2
8:00pm Level 3
9:00pm Performance group class

One class $20, For the Month $60.

!!! Weekly Private Classes available !!!

Location: "You Should Be Dancing" Dance Center
412 Eighth Ave, Between 30th & 31st streets
New York City. Just out side Penn Station.
Tel: 212. 244.0011
E-mail: Bailatina@hotmail.com
Website: www.YouShouldBeDancing.Net
Train: A, B, C, D, E, F, N, Q, W, 1, 2, 3, 9
to Penn Station, 34th street.
* VICTORIA (MSc) Dance Instructor, Choreographer, Performer Specializes for more then 18 years the world of Latin dance, Victoria learned with top dance teachers in Europe and Cuba including with the Cuban national dance company Ban Rra Rra.
She participated in international Salsa events and Salsa congresses around the globe and taught international workshops in Europe, Canada and around the USA from NY to San Francisco and Alaska where she was invited to teach two major workshops both in Anchorage University and Fairbanks University.
Currently Victoria is teaching at "You Should Be Dancing" Dance Center in Manhattan, NY, where students love her entertaining and considering teaching style.
With her Salsa students group Victoria performed for the last Eight years in National and Local events such as an NBA game and the Hispanic day both in Washington DC, Lincoln Center for the performing arts, Havana Film Festival NY Gala, WB11 Hispanic Parade, Chelsea Piers, Chelsea Market, the Lower East side Festival, Club Copacabana and Club SOB's all in NYC, the Re-Opening of Philadelphia's main library in PA and at the "Hoboken Arts and Music festival" in NJ.
Victoria's style is defined by its Musicality, Sensuality and Playfulness.
Classes focus on: Rhythm, Timing, Body Motion, Footwork, How to Lead/follow Turns and Combinations.
---