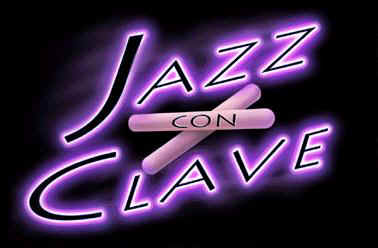 The Latin music scene is inundated these days with lots of "salsa monga", driven by a market that seems to only recognize the slim, pretty boy vocalist. For the most part what you get is the same old formulaic music that passes radio's muster. As a result the listener misses out on all the other rhythmic happenings that don't pass radio's muster, not because it is not good, but simply because it doesn't conform to the formula. Los Jovenes del Barrio is one of those happenings that slip by as a result. Los Jovenes del Barrio represent charanga at it's best. If you haven't already done so, give them a listen and see what commercial radio all across this country has been keeping from you. But first, allow us to introduce you to the group's founder, Johnny Almendra, and vocalist, Jillian...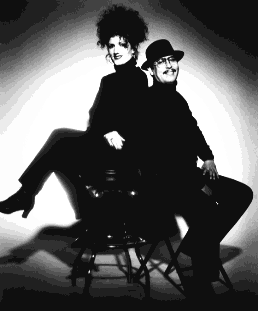 Q&A: A Conversation With Johnny Almendra And Jillian
By
George Rivera
GR: We're here at Boy's Harbor Conservatory with Johnny Almendra and Jillian of Los Jovenes Del Barrio. Johnny, let's start with you. Give us a little bit of your background.
JA: I have been playing for the last twenty-five years professionally. I started with little conjuntos in Brooklyn. I went from band to band meeting other musicians along the way. I started with a guy who had a band by the name of Mike Y Su Conjunto Ritmico. It was a real jibaro band with an accordion, guitar, and timbale. Every weekend when they paid me twenty-five bucks it was like, "wow, I get paid for this?" So, it made me want to do it even more since it came so easy. From there I got to play with other bands in Brooklyn. I got a chance to play with this band Orchestra Dicupe with which I recorded for the first time. I really didn't know what I was doing. Larry Harlow was the producer. From there I went on to better bands like Conjunto Melao, and eventually Charanga 76. The list kept on growing. There were stints with Novel, Broadway, and Tipica Ideal, that's where Milton Cardona and I first got together. I use to watch Milton when he played with Flamboyan. I was with Dicupe then. I would never talk to him because he looked like a tough guy. I use to think, "Man, that guy looks mean." Eventually I got to play with Willie Colon and Ruben Blades. I was with Willie for about eight years. Then I went with Mongo, after which I went back with Willie. In between there I also played with Hector Lavoe. The list of bands I worked with is long. I also got to record on a ton of records. It's been a long road. I've gained a lot of experience playing with all those different musicians.
GR: How about you Jillian, how did you get your start in the business?
J: Well, I've sung basically all my life. Professionally, I started making my money about seven years ago. I've been in the theater. I've been a dancer. I have been on stage since early in my childhood. I'm from the West coast, born and raised in Washington State and Oregon. My experience is much more crazy and eclectic. I didn't really start to consider singing really seriously until about seven or eight years ago.
GR: How did you wind up in this thing?
J: It's really funny. It's sort of like fate. As you know Johnny is my husband. We've been together over ten years now. His music, the music he plays, and let me say he represents it so beautifully and so well, you can't help but like it and enjoy it. It starts sticking to you and so you start learning about it. When he first formed the Charanga I would go to the gigs and just sit, watch, and listen. I would just kind of chime in every once in a while. He wanted to do something that was a little bit different to include me so he had a couple of arrangements made of songs that were in English with the Charanga instrumentation. That's how I came to sing with the Charanga. Slowly, but surely I started to sing in Spanish little by little, learning, little by little. I then started taking it more seriously and studying the music and language more seriously. Now I'm singing the coro the entire time. I love the language and music. It's been a very natural evolution. I just sort of see it as being fate and destiny. We love working together. We don't have problems with that so we really have enjoyed the development of what I do with his band.
GR: For the benefit of those critics out there that say you may sing in Spanish, but you don't know what you sing of, what would you tell them?
J: I do know what I sing of. I have studied opera for many years. As a result I have sung in many languages, Italian, French, Latin, German.
JR: She recorded a record in Japanese, SALSA PEANUTS.
J: Yes, Japanese. I believe that it's important as a singer that whatever the language is to have some sort of idea so you can form a picture so that you can interpret the music. There are times when I'm learning the tunes that I may not know the double meanings and the innuendos and the little depths of the language, but then I'll ask questions. Pero si, yo hablo espaņol. Entiendo casi todo, pero sigo estudiando siempre.
GR: You have co-authored some tunes as well, right?
J: Yes. Telephone I co-wrote with two other writers. We originally did it in a Hip Hop/R&B style. Johnny and Kimson did a hip arrangement of it and it was a very good cross of music. Con Pasion I wrote. Those are two I've done with Jovenes. I have done other things in other genres.
JA: In your soon-to-be released record you wrote a lot of tunes as well.
J: Yes. In my solo project I wrote four tunes.
GR: Is there a title for your solo project yet?
J: The solo project is self-titled, JILLIAN.
GR: Johnny, can you explain how the idea for the Jovenes Del Barrio came about?
JA: In the beginning it was real raw. It was a workshop right here at Boy's Harbor. The reason why, like you know, I teach here. We're very involved in the music and culture. The way things are today, people don't know anything about the music. You know what I'm talking about porque tu eres de la vieja guardia. A lot of times students would ask, "why do I have to do that? Why do I have to learn that?" I would respond that because in Cuba and Puerto Rico they are playing this stuff. That's why! And you should be prepared because one day someone will come with a chart and you will not know what to do. If the chart calls for a baqueteo de danzon what are you going to do? So eventually it got to the point where I had to physically show the students what it was. We started the group, but I needed some experienced veterans to help out or I'd be there all night. So I got guys like Victor Venegas, who was the original bassist with Mongo Santamaria. Victor also played with Orquesta Nuevo Ritmo, one of the very first charangas to play here in the United States. Karen Joseph, who I know for more than twenty-five years, also got involved. These people are my friends, like John Berderguer who's been with Puente. I surrounded myself with certain anchors that were going to make the process easier. And what happens? Little by little it starts developing. I thought, wait a minute, this is sounding pretty good. I felt that we could put it out on the street and have some fun. My intentions were not to start a band or to record. My intentions were to make it a learning thing, which it still is. We're all learning a lot. The reason I chose a charanga was because everything out there was the same instrumentation wise, three trumpets, two trombones, and a baritone sax. I was sick of it already. I couldn't take it anymore. I had to hear something different. At the same time I would also pay tribute to the timbale, which come from the tympani used in the orquestas tipica, the charangas. Those were three things at once that seemed to feel right. So I figured let's go with it and have some fun. Now it's four years later and we have almost three hundred tunes. Some of the tunes are being played in Cuba. Guys like Joaquin Betancourt send me arrangements from Cuba. They feel I'm doing such a good job. They say "sigue la musica Cubana y la onda." The one thing that salseros forget is that every single rhythm that we play originated in Cuba. Unless your playing bomba or plena. We play a tumbao and people forget que eso es Cubano. And the many variations of it as well. The people that taught us were the old Cubanos like Mongo, Peraza, Candido, and Julian Cabrera. All those guys use to pull my ears. "Mira, estas haciendo eso mal!" Milton (Puerto Rican) con la musica de los santeros. All those people. You have to acknowledge where this music came from. Yes, Puerto Rico has it's own style of salsa, but it's origins are from Cuba. We play it our way, with our Puerto Rican flavor, attitude, and influence, but the roots are still there in Cuba. And us coming from New York we have another influence, a New York thing, and a jazzier thing. What developed with this band was that we had Cuban roots with a New York attitude and a Puerto Rican flavor. And Jillian adds another dimension with her roots in R&B and Jazz. We spoke about the opera thing. We thought about Carmen once before, about doing the aria in a charanga mode with Jillian singing it legit. That was just a thought. Hasta ahi llegamos con eso. The whole thing is that I just don't want to make a salsa record. I want to make music. It's all about making music that will still be around in the future. Making it dance music as well. The thing with that is that it's hard to compete in New York. So we had to find a different market to push that kind of music. There's a market in Europe and all over the world for this type of music except here in New York, and the United States. We have a problem with radio here in New York, and the entire United States period.
GR: Not only here in the United States, but in Puerto Rico as well.
JA: Right. What they do is flush the same old thirty tunes on the people limiting the growth of the market. Now we hear things about pirate radio. I hear a lot of things about this in California and Arizona where guys have their own radio stations and the FCC is going after them trying to shut them down. These guys feel that it's within their rights to broadcast what they feel. They are playing all kinds of music and different things. So I'm hoping that in the future something happens to revolutionize radio. I mean there's a lot of money there and payola that is illegal, as well. I'm really dead set against this type of programming because it doesn't allow the music to grow. All it does is corrupt and it stifles the music.
GR: That is why the scene is stagnant right now. It leads to all the record companies copying each other just for a piece of radio. There's no creativity whatsoever.
JA: Right, there's no concept. Then at the same time it's degrading to women. The material that is being chosen is not good for the children. So what are we doing? We're screwing our culture up. You know what I'm saying? You see these little girls saying "yo quiero hacer eso." You see it all over television. That's not good. I don't think that is good for our future, our kids. So I want to do quality music. I'm not going to do something that is stupid. I want to tell a story with a certain quality. Little by little I guess we'll find our niche. It's been a struggle, but we have had a great time doing it. We're growing. Sometimes I feel like burning that bag (the one that contains all the bands arrangements, hurry Kimson, get the fire extinguisher!). You know what I mean. I'm use to a high level of musicianship. Of course, this band is not in that high level like Tipica 73, but it's a band. We have the music, now we have to serve the music.
GR: Now that's a matter of opinion, especially now, when you hear what is out there. There's nothing really happening out there right now. You guys might not get the recognition you deserve, but what you guys bring to the table is probably something that no other band is capable of doing right now.
J: When he says that, he says it as a veteran. Johnny is very modest. He's a veteran who has played with some of the best musicians on the planet. He continues to play with some of the finest, most profound musicians on the planet. He's not saying that we're not worthy of playing. He's saying that the levels in this band, you know, we have so many different levels. I include myself right in there because I'm a student of this music.
JA: Me too.
J: Big time. He says that, but you understand there are differences here. Victor Venegas is a student also, but Victor Venegas was recording some of the most incredible records before I was even born! When they say they are students they are being very humble. They are just paying tribute. He is just saying that with all the different levels we can't all excel together. We are all excelling in different levels so it makes it more difficult at times. The challenges are different. That's what he means.
JA: The challenges are more different. But you know, when it comes out it's worthwhile. It's good. What we're working on with this band is to do some touring outside of New York City. We don't need to work in the two clubs, the Copa and Latin Quarter. Those people look at us like if we're from Mars.
J: Especially when they see me. It's like what? I've gotten acceptance, but I've also gotten criticism.
GR: Do you guys feel that you have gotten a push from your record company?
JA: Not at all.
J: No, not at all.
JA: I did that because I knew what I was getting into. Ralphie is a friend of mine and we have a love-hate relationship. I use to work for Ralph. I use to post in the streets. Before I started playing in bands I was posting in the streets.
GR: With Ruben?
JA: Yes, exactly. With buckets of glue we use to do all of Brooklyn, all of the Bronx, Manhattan. That's what I did. My brother-in-law was also a promoter, a crook too. He used to rip-off the musicians. Family is family, but the truth is the truth. I remember Ralphie when he didn't know anything about Latin music. Guys like me educated him. Through the years we have seen each other grow. Now he is this big massive promoter. I appreciate the fact that he heard the tape and gave us a chance. He gave us that opportunity. But, I knew he wasn't going to push it because when you have all these "great" stars, you're going to take care of your stars. You're not going to take care of the people on the bottom. Now, I'm trying to get with a company that has a small roster that will push this type of music. Why invest in something and lose money, when you can make some money.
GR: Right, but, by the same token you say you're in a company with a bunch of "stars", but, they are not saying anything musically.
JA: That's true. I would say so. I put on those records and I have to shut them off. I have to put on Machito, Tito Rodriguez, and Puente. Those are the stars now because that's what the companies are pushing.
GR: How's non-commercial radio treated Jovenes?
JA: That's been great.
J: Great, great all over the country.
JA: That's helped us a lot. They have played our music all over. We get letters. Every critique has been like five stars. I think that's pretty good so far. If we get a bad critique then we're in trouble. But, we know we're playing good music. You've heard some of the material we're working on. It's some classy music. All the alternative stations have been good to us. Even the magazines like Latin Beat and New York Latino. All the critics have been good to us. Everyone is hungry for this music. I was thinking about that today. How could radio be so ignorant to think that there are only two styles that you can play on the radio? How could that be? You're insulting the people.
GR: Where do you see the band in five years?
JA: The way I see it we're going to be a touring band. We're going to be doing the Jazz circuit more. This band is prepared to do the tipico, R&B, and Latin Jazz. That's where I see this band heading. Not only a dancing band, but a concert band as well. Based in New York City, but traveling throughout Europe and South America. Maybe we'll get lucky and get a Latin radio hit, or maybe even an R&B crossover hit with Jillian. I would just like to see this band do the things that I have done in my life. The things that I have been lucky to have done with Willie Colon, Ruben, and Mongo. I would like them to experience that because they deserve it. We have good musicians here. Great violinists. These kids come from high school orchestras. We have a very good pool of musicians. I see this band doing some good things in the future.
GR: How about you Jillian?
J: I'm on the same mind set as Johnny. We have basically built this thing together. He's more the music side. I'm more the business side. This is our dream. As far as my record, yes, I'm just dying to take my funk band out on the road.
JA: Wait until you hear her record it's a killer.
J: I'm really looking forward for that record to come out. I fantasize about both bands going on the road together. The styles are too different. I just think about how to incorporate the two in a concert series, but they are too different.
GR: Who were the producers on the project?
J: I had several producers on the record. I have Rob Mounsey, who is the cream of the crop. Albert "Sterling" Menendez, who is basically a sideman for many different bands including Jon Secada. The list is just incredible. I mean he just works so much. He's just starting to get into production. We wrote and produced some really nice tunes. Oriente Lopez produced one song. It's the only Spanish song on the record. A couple of Hip Hop guys I've worked with, Jimmy Grecco and Kenny Hairston. E.J. Allen produced one tune. It's a strong record with a lot of variation in there. We just want to keep on going and to be able to support our music and make some bucks. Just to keep on doing what we're doing, to keep on elevating and expanding.
GR: Being a newbie to the Latin scene and knowing Johnny's history within the music, how do you perceive the industry?
J: The whole Latin scene?
GR: Yes.
J: I think it sucks! Excuse me, that's really harsh, but I really think that in general the musicians are treated horribly. It doesn't seem like the venues and the different situations in which musicians play treat them well. I believe that there is a whole lot of exploitation. I don't think there's proper pay. It just seems like there's a monopoly going on. RMM seems to have some sort of a monopoly on the whole "salsa" scene. I am not really familiar with the South American scene, but, it just seems to me that musicians in general are not treated very well, unless you're really up there. In the Latin music scene particularly it just seems to me that it's just really degrading in a lot of ways.
GR: How about you Johnny? Remember back in the 70's when the guys tried to form a union within the Latin music scene?
JA: They tried to form it right here in this building.
GR: Do you think that maybe now is a good time to go for it?
JA: No, because musicians are cutthroats. They are like prostitutes. The idea is to look out for yourself. That's what I do. I have already been burned by millions of people I tried to help. I'm here teaching for the past nineteen years, giving back to the community, and I still get burned. I don't give up on my culture. That's why I'm still a musician. That's why I don't have a house or a pension. I believe in our culture. Now it's a little too late to go back and say "man I should have switched," like we were talking before. It's too late. Your here and you just have to keep on going. I feel I still have the fire and desire inside me. I feel that I still have a lot to say musically. I just don't see that happening. First of all the legit union is a "mafia". How could we have a Latin one? It would probably be even more corrupt! (We all have a good laugh) That's the reality of it.
GR: Ok, how about it if all the top arrangers say, got together and stated that they will not arrange a tune for less than say, $250.00.
JA: They won't do it. There are too many cutthroats. It a long story and we're going to continue talking about this. It's the truth. I don't see that happening.
GR: I have to agree.
JA: It's a nice dream. That's all, just a nice dream.
J: The ideal of a union is a good concept. I belong to S.A.G. and I'm looking to join EQUITY. I mean if you can belong to one and get medical benefits, paid rehearsals, breaks every so often, ideally that's good because they take care of the artist. It just looks like Jazz and Latin musicians are down under.
JA: The musicians that are in the union are all on Broadway. I was in the union for fifteen years. I paid my dues and they never got me one gig. Why should I give them my money? We're going to continue this conversation.
GR: Yes, we will, but let's move on. You have spent twenty-five years in this business. You were there throughout the seventies, a period that swung.
JA: Well, for me, I think the fifties were hotter than the seventies.
GR: But you weren't playing!
JA: No, but I was listening to the best music. I remember La Hora Hispana. It was only one hour of music a day. When you put on the station at six o'clock you would hear Beny More, Cortijo Y Su Combo, Arsenio Rodriguez, and Moncho Leņa. Esa epoca that we come from was incredible. Even the sixties. Even the boogaloo, which I was kind of turned off by, had some kickin' bands. And every band sounded different. Even though they sucked, bands like Joe Bataan and Willie Colon all got better, and they all had their own sound. The Lebron Brothers, Joey Pastrana, Cholo Rivera and the Latin Soul Drive, they all had their own id. Now, I put on the radio and it's "que banda es esa, que cantante es ese?" They all sound the same.
GR: With twenty-five years in the business, what differences do you see now if any?
JA: I've been very fortunate to have played with some of the best cats. I don't think that the musicians in general have gotten any better. I see that the really great musicians like the Milton Cardona's and the Jerry Gonzalez's are not getting any work. They are playing, but, not in the Latin scene. Those cats are the guys. Those are the players. I don't think they get the respect they deserve. I think that the musicians are out there, but the music is not. The music is lame as far as I'm concerned. The musicians nowadays don't go past the tumbao. I'm not saying all of them, but the majority. They stick to this formulaic salsa. It's a shame. These rhythms like rumba, guaguanco, columbia, and yambu are some of the most sophisticated rhythms. It doesn't get any more complex than that. These people ignore it.
GR: In closing, what would you like to leave our readers with?
JA: I invite them all to come and listen to Los Jovenes Del Barrio. Experience our music and see what you get out of it. Let's keep the music alive. Keep on swingin' and stay positive. We can talk about all this negative stuff, but we have to stay on the positive side. That's the name of the game. Stay positive.
GR: Jillian?
J: Yes, ditto what Johnny has said, only another reason to checkout the band is because we are on the positive tip as far as crossing all the lines, cultural barriers, gender barriers, age barriers. Lord knows I'm the biggest mutt in New York City. I'm everything. I'm the "new American". I'm white, raised black, Puerto Rican, I'm everything! And that's what we all need to realize, the positive tip.
---
Return to Interrogation Room
All contents © 2001 by Jazz Con Clave. All rights reserved. Reproduction in whole or in part is strictly prohibited. All trademarks are property of their legal owner.